Playing Survivor Masters Series
Starting an attempt in the Survivor Masters Series costs 1 Ticket and is played in 3 stages with different heroes and weapons for each stage. Once you start you will get a confirmation screen similar to the one below. Please note that once you start, heroes and weapons are locked for all three stages.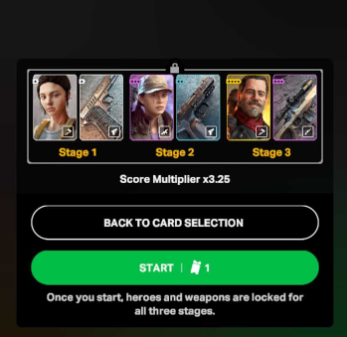 Using a First Aid Kit at the beginning of an attempt will heal all the selected Heroes at once. You can also heal these Heroes during stages in case you have them injured from other Missions.
Now it's up to you to take down as many Walkers as you can and see if you can top the Round Leaderboard for your Division Group! 
SURVIVOR MASTERS SERIES